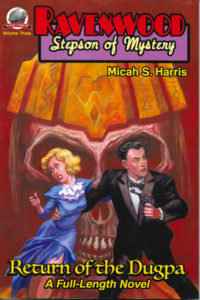 5/30/2021 – Hear me chat it up with fellow writer Adam Messer on his Savannah, GA radio show! The focus is on pulp occult detective Ravenwood, whom Adam will soon be chronicling for Airship 27 productions, the publishers of my 2016 award-winning Ravenwood, the Stepson of Mystery: Return of the Dugpa. It's a fun hour, with in-studio live musical interludes by Adam's son! Access it here: https://directory.libsyn.com/episode/index/show/adammesser/id/19295033
01/ 02/ 2021 – Please check out my recent appearances on the podcasts ArtsReviews's https://artsreviews.libsyn.com/the-witches-of-winter-trilogy-by-micah-s-harris and Go Forth and Game  https://goforthandgame.com/
11/8/2020 – A sexy siren answers the call — to put the kibosh on Cthulhu! The New, Expanded 2020 edition of my Lovecraftian tale of high adventure, The Eldritch New Adventures of Becky Sharp, is available now on Amazon! More illustrations (seven pieces, five new to this edition, by cover artist Loston Wallace and M. Wayne Miller!)! More special features! More eldritch adventures! NOW for only $12.99 and on Kindle for only $2.99! You can get it here: https://www.amazon.com/Eldritch-New-Adventures-Becky-Sharp/dp/0981677045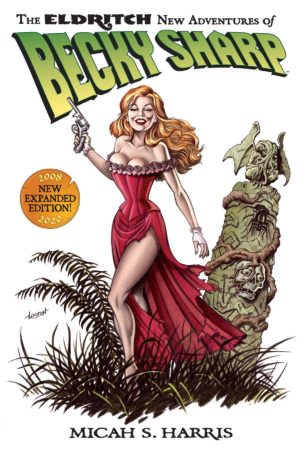 6/18/2020 – My 2003 Image graphic novel "Heaven's War" (drawn by artist Michael "Jessica Jones" Gaydos) is the topic of discussion on the latest episode of the "God and Comics" podcast. You can hear it here:
http://www.godandcomics.com/podcast/2020/6/18/heavens-war?fbclid=IwAR3S2v-4JcugYBLR_HMZ9gzqLzLLUqkBYBhCd-3ISDlIouedeSDHXu0RXnY
3/25/2020 -I'm back for my second visit on the What's Yer Weird Story podcast, this time with true tales of haunted angel figurines and a miracle at the local IHOP among other esoteric ramblings! We also discuss Portrait of a Snow Queen as the podcast promotional tour for my epic fantasy novel continues!  Find the episode "The Extraordinary Within the Ordinary" (thank you, Stephen King) at this link:
https://www.stitcher.com/podcast/whats-yer-weird-story?fbclid=IwAR2X0XTesQ5I5K3tiQ_gzool9_2VuTRK-JGYwKS61_RvRKT3ifdsYbcVsA0
1/6/2020 – I recently returned to the Art's Reviews podcast to chat with Dr. Art Sippo about my new epic fairy tale retelling, Portrait Of A Snow Queen! You can hear Dr. Sippo and me discuss my book — and ponder what's up with women and bad boys — at the link below:
http://artsreviews.libsyn.com/portrait-of-a-snow-queen-by-micah-harris-epic-fantasy-at-its-best
12/3/2019 -NOW AVAILABLE IN PRINT ON AMAZON AND ON KINDLE: PORTRAIT OF A SNOW QUEEN! After three years, my fantasy romance epic is now available! Here's what readers are saying on Amazon:
"….The characters pulled me in with their struggles that mirror real life: wanting to be accepted, wanting to be loved, wanting to have at least one person in this world who understands…."
"I love the world and characters that come to life in "Portrait of a Snow Queen." The setting is rich and intriguing and the dialog is clever. I found myself rereading passages along the way because I loved the imagery and choice of words…."
"I couldn't put it down. This story is beautifully written….The characters are well developed and you just can't help falling in love with them. The story holds all my favorite elements – fantasy, mythology, fairy tale, history, literature and romance. Every time I thought the story could not get any more intriguing another gem would pop up. I lost endless hours of sleep, but it was well worth it! ….I am forever in love with The Portrait of a Snow Queen."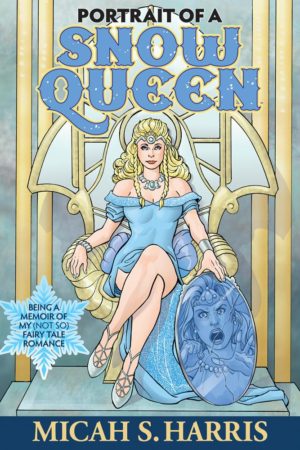 11/13/19 – FULL COVER REVEAL FOR MY NEW FANTASY ROMANCE NOVEL! I'm proud to have my "intimate epic" graced by a cover by Marvel and DC artist Aaron Lopresti! Aaron was the regular Wonder Woman artist for two years, and his portrait of my princess is wondrous indeed! You can access a preview of the novel's opening chapters on the web site's front page! Portrait of a Snow Queen debuts this month on Amazon in print and Kindle editions!
9/1/19 – I will be appearing at the Bookmarks Book Fair in Winston-Salem N.C. on Saturday, September 7! Come see me at the Minor Profit Press booth! Look for the banner with the dancing bear! Follow link below for more details!
https://www.bookmarksnc.org/festival2019
8/8/19 – I'm this week's guest on Monster Kid Radio! Host Derek M. Koch and I pop the lid on the forgotten movie — and forgotten writer — that was the first to introduce a popular and enduring concept in horror movies! Heads up! Hear it at http://monsterkidradio.libsyn.com/
6/19/19 – Available at the Monster Kid Radio table at Monster Bash this week! Free…when you sign up for my newsletter, "The Books of Micah."  Two tales for monster lovers:  "Halfway to Idaho" by Derek M. Koch (from his The Marc Temple Casefiles: Volume One), featuring his occult soldier of fortune, and perhaps my most ambitious horror story, the little seen "The Frequency of Fear." Copies of this exclusive Monster Bash edition are extremely limited!
6/1/19 – In Association with Derek M. Koch and Monster Kid Radio, I will have Minor Profit Press Preview Booklets for FREE at Derek's table at this month's MONSTER BASH in P.A.! One will be a preview of my Snow Queen novel due later this summer; the second a mini-anthology featuring occult detective stories by Derek and me, done up as a Warren Comics Magazine ("Creepy," "Vampirella," etc.) homage!
6/1/19 – "THE ELDRITCH NEW ADVENTURES OF BECKY SHARP" NOW AVAILABLE COMPLETE FOR PDF OR EPUB DOWNLOAD FROM THIS WEB SITE! FREE!
5/6/19 – HEAR my dulcet southern tones as I join my fellow authors in the Dorian Gray: Darker Shades anthology to discuss this groundbreaking collection of stories with Dr. Art Sippo on the Art's Reviews Podcast! You can find the podcast here: http://artsreviews.libsyn.com/dorian-gray-darker-shades-from-wild-hunt-press
4/26/19 – PRINT EDITION OF THE CHROMATIC COURT anthology, featuring my story "Tatterdemalion in Grey," NOW AVAILABLE on Amazon with the Kindle Version!  Purchase at
3/18/19 -NEW SHORT STORY IN LOVECRAFTIAN ANTHOLOGY!  I'm happy to announce the debut of my "Tatterdemalion in Grey" in the anthology "The Chromatic Court," edited by popular Lovecraft mythos author Peter Rawlik. Available as an e-book on Amazon Here!
Watch this space for the announcement of the print edition!
Further details on the anthology, my story, and a contest for a give-away of another story of mine connected to "Tatterdemalion in Grey"  are in my latest newsletter! If you are interested in the above, please click here on Contact   to subscribe for free and be certain to click "yes" to be added to the mailing list to receive the updates in  "The Books of Micah" newsletter.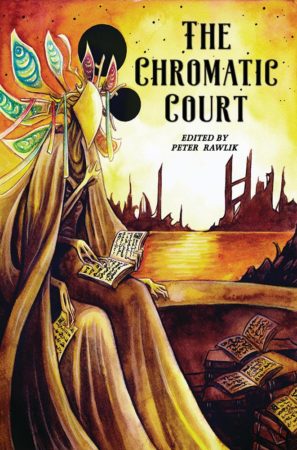 3/9/19 -FREE! My newsletter "The Books of Micah" is now available to be emailed to anyone who is interested in previews, exclusive extras, bonus content, artwork, contests, announcements, etc. related to my books. Lots of fun stuff coming up this year at Minor Profit Press! Don't be left out in the cold like the Snow Queen below! Please click here on  Contact, to subscribe for free and be certain to click "yes" to be added to the mailing list to receive my newsletter, "The Books of Micah."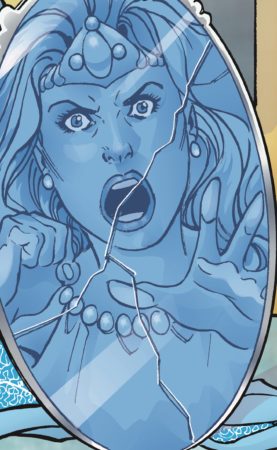 2/21/19 – NEW BLOG POST: "Why Everyone is Wrong About Frozen" (part one). Are you sure you've actually ever seen Frozen…or was it that other movie, also called Frozen and also made by Walt Disney? You may be surprised to discover you only know "the Phantom Movie" released that same Thanksgiving weekend of 2013!
2/17/19 – I will be appearing FEBRUARY 23rd at the NORTH CAROLINA BOOK FESTIVAL in Raleigh N.C. at HQ Raleigh (310 South Harrington Street) from 10:00 A.M. to 6:00 P.M. I will be selling copies of my books, including DORIAN GRAY: DARKER SHADES for the first time, as well as debuting the revised, second print edition of THE ELDRITCH NEW ADVENTURES OF BECKY SHARP! Come by my table to chat and take a look at my wares!
2/8/2019 – NOW AVAILABLE AS A FREE EPUB BOOK ON PROLIFIC WORKS: THE ELDRITCH NEW ADVENTURES OF BECKY SHARP! If you are signed up on Prolific Works, please visit me at my author's page on their website to claim your giveaway or use this link and join Becky in her battle to save the cosmos from Cthulhu!  Here!
1/8/2019 – I and my long time pal Gary Woolard are the guests of my OTHER long time pal Adam Beeby and Adam's long time pal Barry Johnston on their unique and spooky true tales of the strange podcast "What's Yer Weird Story?" Hear your author speak in his own southern dulcet tones as Gary and I talk about our visit to a haunted house…and how U.F.O.s, whatever they really are, might have been involved…. Follow this link into the strange! Here!
1/5/2019 – And we are LIVE! Minorprofitpress.com, the official website of Micah S. Harris, just launched!
1/5/2019 – FIRST BLOG POST: "The Varieties of Bad Movie Experience!" How does Plan Nine From Outer Space differ from Sharknado? What is the unique directorial signature of Neil Breen as opposed to that of Ed Wood, Jr.? Join me as I ponder the difference between a bad movie and a movie that just isn't good!
1/5/2019 – Now out in print as well as Kindle: my latest publications in the anthology Dorian Gray: Darker Shades from Wild Hunt Press. This volume features my new Becky Sharp novella, "Portrait of a Lady," in which Becky meets Dorian and some other immortals of pop culture and literary lineage. Also includes my introductory essay on how Oscar Wilde came to write The Picture of Dorian Gray and the character's subsequent history in movies, comics, and fiction!